Back to School – the day every parent yearns for and every child dreads (just kidding)!   At the OFE, we were yearning for new shoes and crisp notebooks ourselves so were delighted when Mayor Martin J. Walsh invited staffers from all over the City to give out pencils to Boston students on the first day of school!   Accordingly, on the first day of school, OFE visited the Boston Teachers Union School, a teacher-run K-8 school in a historic brick building near Forest Hills.  We were welcomed by friendly staff who showed us around the school before the children started to appear.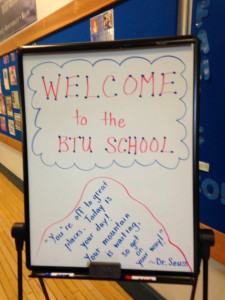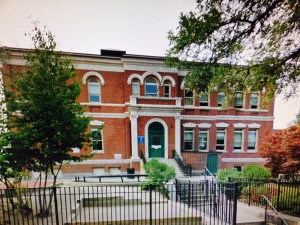 We had fun talking to children and their parents, nearly all of whom sported delighted smiles at greeting last year's teachers and meeting new ones.  And no one said no to a pristine new pencil!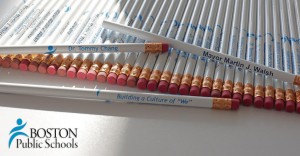 An added bonus for us was meeting new Boston Public Schools Superintendent Dr. Tommy Chang and shaking hands with Mayor Walsh when they visited the BTU.  Dr. Chang shared the new BPS theme:  that we are building a "Culture of We" in the Boston Public Schools and the City of Boston.  Dr. Chang says, "Together, let's help all of our students achieve at high levels. Together, let's respect culture and value language, and together, let's always remember that our students are at the heart of our work."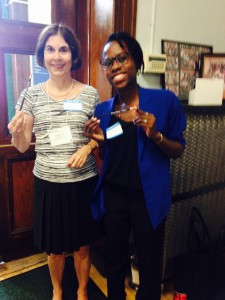 Thank you to Sabrina Dorsainvil from the Mayor's Office of New Urban Mechanics who was my pencil partner!