The Office of Financial Empowerment is located across the hall from the City of Boston's Veterans' Services Department at 43 Hawkins Street in Boston.  We have enjoyed getting to know their staff and brainstorming with them to think of ways OFE can bring some of our asset building strategies to their constituents.   We have volunteered with them at several events this fall.
One way that Veterans' Services reminds everyone in our building of the importance of the men and women from Boston who made the ultimate sacrifice for their country is by the empty chair outside their office.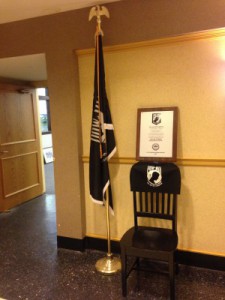 The plaque says:
                                                                                     You are not forgotten
Since World War I, more than 91,000 Service Members are unaccounted for.  This unoccupied seat is dedicated to the memory of those brave men and women and to the sacrifices each made in serving this country.
Rolling Thunder, Massachusetts Chapter 1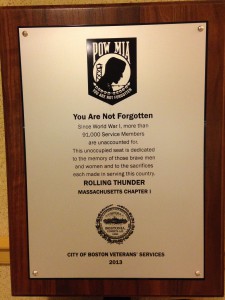 Every time we run up and down the stairs we appreciate anew the tribute this empty chair pays to our Veterans.   Kevin Cullen of the Boston Globe wrote a moving article three years ago about Rolling Thunder's inspiration.
Thanking Boston's Veterans
This weekend there is a citywide effort to thank our living Veterans –  "Operation Thank A Vet."  During the weekend of November 7 – 8, volunteers are going door-to-door to thank the men and women who have served in the U.S. Military and provide them with information on the resources available to them and their families.    The Roxbury Center for Financial Empowerment located at 7 Palmer Street also welcomes Veterans to its free services.   Come to a free orientation session on Mondays or Wednesdays at 10:00 am to learn how we can provide free financial coaching, career services, and income supports.