The Office of Financial Empowerment (OFE) was invited to Unity Day on August 15 at the Charlestown Housing Development. Unity Day is an annual event, established by the Boston Housing Authority (BHA) in the mid-1980s to generate a greater sense of community among residents, and functions like a block party. Current and sometimes past residents are encouraged to attend.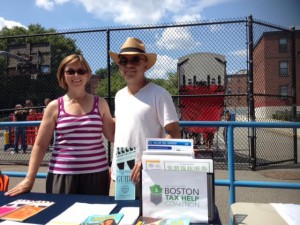 This year, City agencies, including OFE, along with community partners, Mass General Hospital, Smart from the Start, the J. F. Kennedy Center, and the Charlestown Substance Abuse Coalition (CSAC), joined the Charlestown Tenant Task Force and BHA staff  to encourage residents to sign up for available programs and services. Giveaways, raffles and fun, kid-friendly activities were provided to all residents. There was a strong turnout, including many children and a good number of adults.
The BHA used the event to announce the HUD Jobs Plus Program, in which the OFE is partnering with BHA to provide free tax preparation through the Boston Tax Help Coalition, and will also assist with financial capability programming and coaching. Mimi Turchinetz and Danilo Morales represented OFE (see photo above) and staffed a table where they could talk to residents about the services we provide.  Residents were invited to a Community Meeting on September 29, 2015 which will officially launch Jobs Plus.  We look forward to helping BHA implement these programs!    For more information on the HUD Jobs Plus Program in Charlestown, please contact Rachel.Goodman@Bostonhousing.org.