On December 1, Mayor Martin J. Walsh announced a new program run by the Office of Financial Empowerment — the Financial Navigators program. Funded by a grant from the Cities for Financial Empowerment Fund, the program is designed to help Boston residents impacted by COVID-19 access free financial services they might not otherwise know about.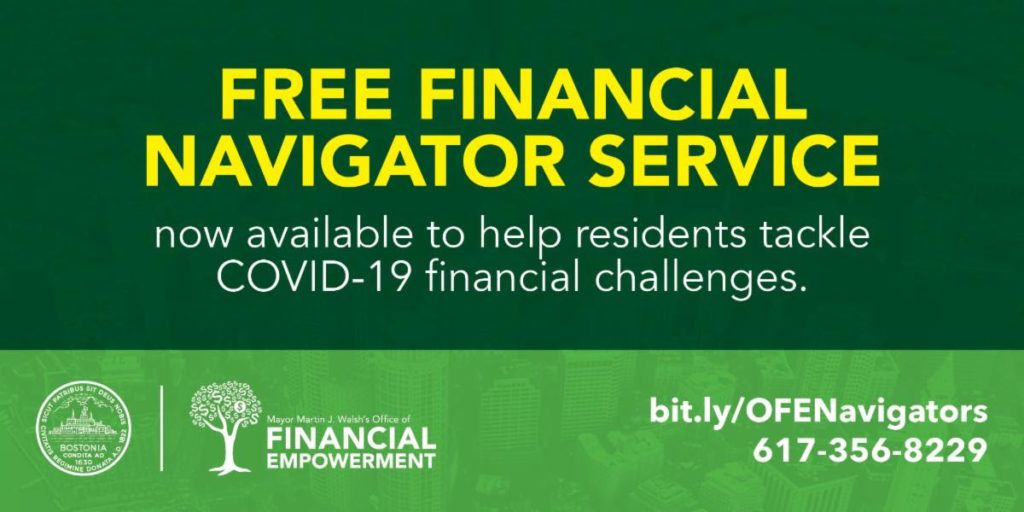 Trained Financial Navigators are available remotely to provide guidance over the phone to help residents access available programs and services to manage income disruptions and other financial concerns as a result of COVID-19. Financial Navigators are helping triage personal financial issues, identify immediate action steps to manage expenses and maximize income, and make referrals to both community-based and other city services.
Thank you to the OFE team who has made this critical program possible and welcome to the three new Navigators:
Dieusait Benoit
Sarah Michaud
Andre Aquino
In addition, thank you to Eddie Downs, longtime OFE employee and Financial Coach, who is also working as a Navigator.
Residents can access these remote services by completing this web form or calling 617-356-8229 to sign up. To complete the form, residents will need to provide their name, zip code, language preference, phone number, and email address. The Financial Navigator will then send a short service agreement and call the client to begin their personal session. In addition to English, Financial Navigators will be able to assist residents in the following languages: Haitian Creole, Spanish and Portuguese.
"Financial distress is a primary part of the COVID-19 crisis, and we're pleased Mayor Walsh and his team is making this a priority for Boston residents," said Jonathan Mintz, President and CEO of the Cities for Financial Empowerment Fund. "The Financial Navigators program will help Boston residents assess and prioritize their financial concerns and get connected with the right resources."